No More Zero - Weekly Market Update
The Fed signaled a Lift Off by raising interest rates from 0 to 0.25% on Wednesday last week.
It is the first of 6-7 interest rates hikes this year, marking a shift from an ultra-accommodative monetary policy to neutral and stringent as the year progresses.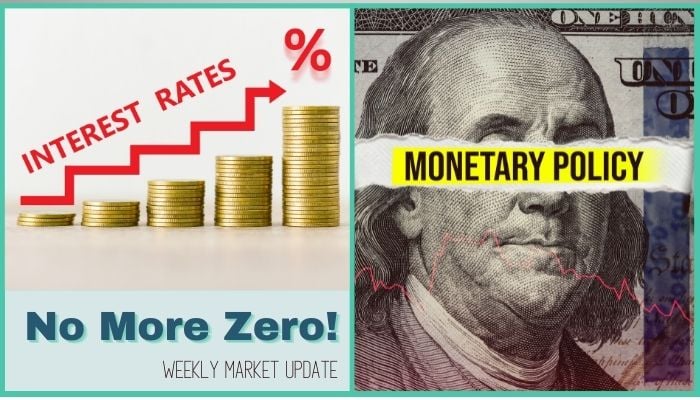 As the markets had already priced in a 0.25% interest rate hike, US equities moved higher on other favorable news like;
Retreating oil prices
Russia avoiding a sovereign default
A potential positive outcome from negotiations to end the Russia/Ukraine conflict
However, fighting continues in Ukraine.
Despite Quadruple Witching on Friday, US equities posted substantial gains, recovering lost ground in the previous two weeks. The Nasdaq led the way by gaining 8.2% for the week. The S&P gained 6.2%, and the Dow Jones 5.5%.
The YTD numbers of the indices are as follows;
Nasdaq: -11.19%
S&P500: -6.36%
Dow Jones: -4.36%
Many S&P500 companies have spent close to $270 Billion on buyback in Q4 2021. This figure is almost four times that of Q4-2020.
Europe
For the second week, European equities were in the green on favorable global cues and cautious optimism on peace talks between Russia and Ukraine.
The Euro STOXX 600 Index gained 5.43%, while UK's FTSE 100 Index was up by 5.13%.
Bank of England has been leading the way towards a stringent monetary policy in an attempt to tame Inflation. In the third revision, they increased interest rates from 0.50% to 0.75%.
Officials at the Bank of England highlighted the need for "Some further modest tightening in monetary policy might be needed over the coming months."
In light of the prevailing Russia -Ukraine crisis, spiraling Inflation, and waning consumer confidence, They added that "there were risks on both sides of that judgment depending on how medium-term prospects evolved."
China
Chinese equities started the week with sharp declines on fears of potential delisting of Chinese ADRs on US exchanges, COVID-19 outbreaks, and rising geopolitical tensions.
However, they staged a spectacular recovery as the news came in on Wednesday that the government would support the stock market, promote economic growth, and ease the regulatory environment.
Alibaba and JD.com posted record gains, rising 27% and 30%, respectively.
There is also a sense of optimism on the potential delisting as entities of both nations look for amicable solutions.
India
Indian equities were also significantly up on positive global cues and change in stance by FIIs. They were net buyers on both Thursday and Friday, led by Vanguard Emerging Markets Stock Index Fund.
For the week, the Sensex was up by 4.16%, settling at 57,863.93, and the Nifty was up by 3.95%, settling at 17,287.05.
Outlook
As another era of stringent monetary policy emerges, investors would have to realign their portfolios to facilitate consistent growth.
While the outlook for equities is still positive, it would help to have a robust investment strategy and a more diversified portfolio of Cash, Bonds, stocks(Growth and Value), commodities, and real estate.
What Happens When The Fed Raises Interest Rates?
An increase in the interest rates in the US affects us in many ways than we can imagine.
Positive effects
Increased bank deposit rates
Suitable for investors in the banking and financial services industry
A potential increase in the rates offered by pension plans
Higher bond yields - More income for bond investors
Fall in bond prices - An opportunity to buy bonds at lower prices and build a passive income-generating portfolio
Has a knock-off effect on Inflation
Dollar Appreciation
Negative effects
Increase in mortgage, Personal, and Car loan rates
If the rental yields do not keep up, a potential drop in property prices
Or an increase in rents to keep up with borrowing costs
Increase in the cost of borrowing on business loans and facilities.
Lower bond prices will impact existing portfolios of medium and mong term bond investors.
Appreciation of the Dollar could put pressure on Emerging Market Currencies.
Expert Help
Are you holding back on your investment, fearing a market correction?
Or are you unsure how to invest for your retirement or other important financial goals?
I can help...
Click here to schedule a free online meeting to help you build a financial plan and a robust investment strategy.
You can also get a free second opinion of your investment portfolio, to help you review and rebalance it.