Features & Benefits of Generali Choice Lumpsum Investment
Lumpsum Investment Plan
The Choice is a Lump-Sum Savings Plan from Generali. It is most suited for people looking to grow wealth, Business Owners or potential property investors because of the following;
Flexibility
Choice is a lump sum Investment Plan, with a minimum investment of $36,000( AED 132,480). As an when you have additional funds you can invest a minimum of $2,700(AED 9,936) at irregular intervals of your choice.
As a person nearing retirement or business owner you might have an access to large sums of money at specific periods and you might be placing these funds in your current account earning no or negligible interest.
You can invest these funds into Generali Choice to gain access international markets and earn higher returns than what you bank offers, and also manage to beat inflation.
Liquidity
As business owner or property investor, I am sure liquidity of funds is your prime concern, based on which you make almost all of your investment decisions. You can withdraw up to 90 % of the amounts invested at all times in your Generali Choice Investment Plan.
Security
When you are looking for a company to protect your wealth over a number of years, it is reassuring to know that the Generali Group has solid foundations, giving you the confidence that your money is in safe hands.
For 178 years Generali has been leading provider of insurance and financial services to a global market, having a client base of 70 million clients and over 560 Billion USD in funds under management.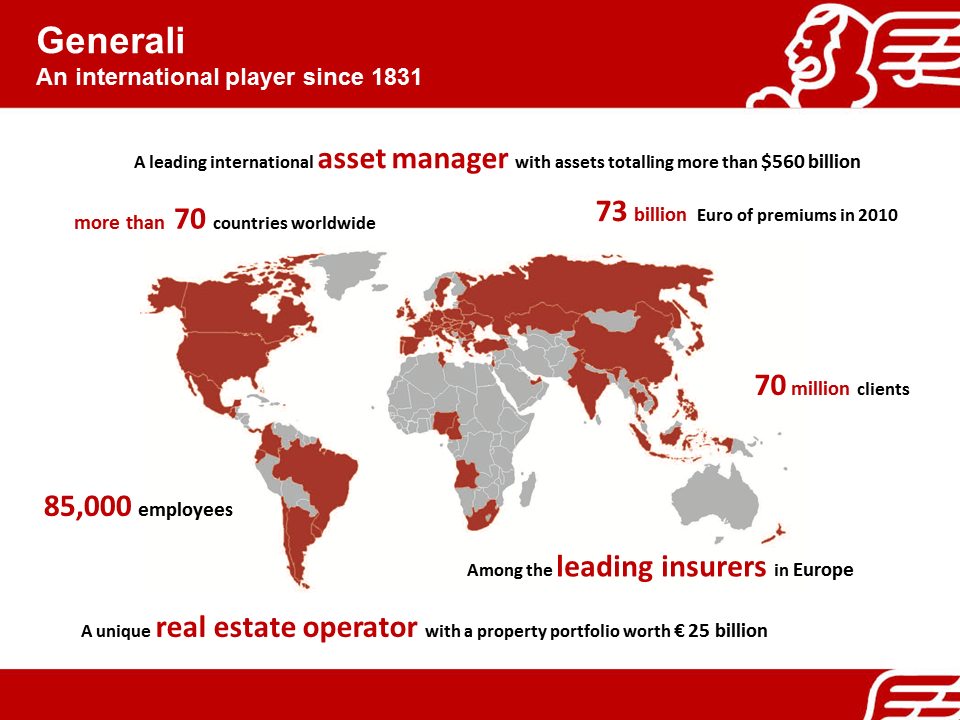 In India Generali has a joint venture between the India-based Future Group, operating in both the Life and Non-Life businesses as Future Generali India Life Insurance Co. Ltd. and Future Generali India Insurance Co. Ltd.
It ranks 48th on the Global Fortune 500 list, and the 7th on the World's largest insurers, in terms of assets, and 2nd on the world's largest insurers in terms of Net premiums in the year 2012. (Click here to access the report)
What kind of Financial goals Generali choice most suited for?
Short to Medium Term Term Investment for Business Owners or individuals nearing retirement or into retirement

As an Accumulation strategy for prospective property investors towards down payment or purchase cost of the property.

Retirement Planning for salaried individuals and business owners

Education Saving for Children's college fees

Saving for Immigrating to another country

General Savings and Investment
Benefits of Generali Choice
Choice of Currencies
The Generali Choice offer investing in 4 different currencies ( USD, EURO, GBP and YEN); providing you the freedom of choosing the most suitable currency depending on your earning as as expat or favoring the currency of the country of your origin.
Access to over 120 Direct Funds
With Generali's Direct Funds' range, you will have access to significantly better performance than Mirror funds. A Mirror fund is a type of mutual fund run and managed by an insurance company that aims to replicate the performance of established investment fund houses.
Free Online Switch and Redirection of Investments
To adapt to the changing market conditions a regular review of the investment strategy if very crucial, and whenever necessary a change in the investment strategy keeps the investment robust. Generali offers a free online switch and redirection of the funds helping you adapt your plan to the market volatility.
Enjoy easy access to your investment
You can withdraw up to 90 % of your investment, without any charges, you can have access to your funds at any time and receive the proceeds within 10 - 15 days
Most suitable Wealth Distribution Vehicle
As an offshore plan, The Generali Choice is a robust vehicle for distribution of wealth, helping a discerning investor distribute his wealth to his beneficiaries efficiently. Due to the offshore status of the plan, it does not fall under the Sharia preview, hence is not frozen in the event of death of the investor.
24/7 Online Access Valuations
Generali makes it easy for you to stay in touch with the progress of your Plan. It provides you online access to up-to-date information on your Plan and how it is performing. It provides you with instant and secure access to your Generali investment portfolio every day of the year.
Regular Income Facility
A regular income may be taken from a Plan at any time provided the Investment Value of the Plan after the regular income payment does not fall below 10% of all Investment Amounts paid. The minimum amount of each regular income payment, irrespective of frequency, is USD 630 / GBP 350 / EUR 525 / JPY 70,000 and payments can be made monthly, quarterly, half-yearly or annually.
What should I re-consider before signing on the dotted line?
Generali Choice is a Unit Linked Plan, hence the investment strategy and assumptions play a vital role in the sustenance of the plan and and the financial goals associated, and hence it is crucial to understand the implications of the market volatility.
Any additional investment will attract similar charges to the original investment, and same terms of the original investment apply to the additional investment as well.
Your financial adviser should be able to guide you in setting up a robust investment strategy, and if you feel that you need help in setting up an investment strategy, or to manage your existing plan, feel free to call me on 0502285405 or schedule a free consultation.