Best Multicurrency Cashflow Forecast Template for expats | FPiD
If Cash is King, then the cash flow is perhaps the Emperor or the Monarch.
Whether a country, company or individual, planning cashflows efficiently is crucial to their sustenance and success.
While companies and countries have the best processes and resources to manage cashflows, individuals often ignore this crucial aspect due to a lack of awareness and efficient tools.
Managing your cash flow can be a monotonous chore or even an overwhelming experience without the right tools.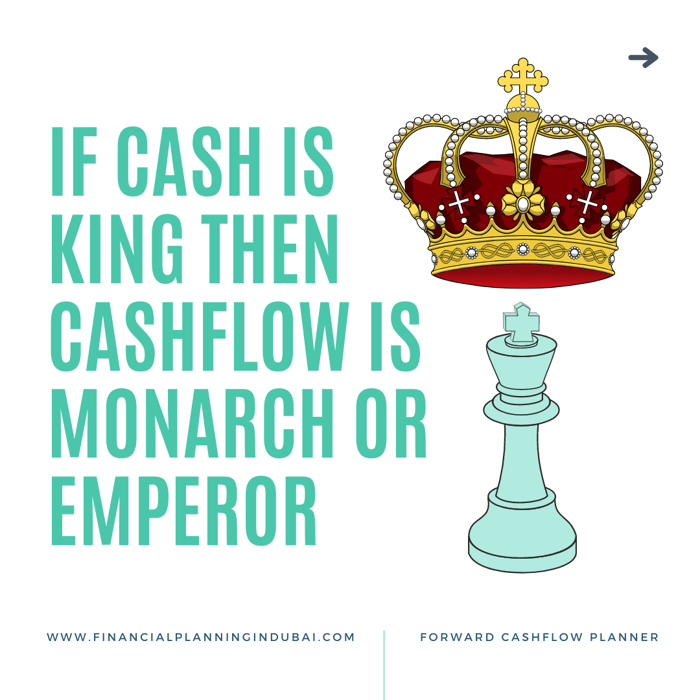 Multi-Currency Forward Cashflow Planner
Here is a simple but very efficient forward cash flow planner, helping you plan up to 12 months in advance and in multiple currencies. The exchange rate is pulled up live, so you don't have to bother checking the rate and converting them.
It is ideal for expats earning and spending in one currency but thinking in terms of and accumulating wealth in another currency.
The primary currency is AED and you can choose the secondary currency from the following list;
| | |
| --- | --- |
| INR - Indian Rupee | CAD - Canadian Dollars |
| USD - US Dollar | SGD - Singapore Dollars |
| GBP - Pounds | SAR - Saudi Riyals |
| EUR - Euros | OMR - Omani Riyals |
The Forward Cash flow Planner measures your cash inflows and outflows to show the surplus or deficit at the end of each month and after 12 months.
Knowing this will help you plan your expenses, savings and investments and stay in charge of your money.
Variable Income
It is also ideal for people with both regular and variable incomes. In fact, it could be pretty handy for people with 100% variable incomes like Real estate agents, Entrepreneurs, Solopreneurs, and business owners.
Auto-populate
Baring a few items like a bonus, commissions, rent, school fees, travel and vacation, most of your income/expenses typically occur monthly.
So instead of typing the data for the whole 12 months, you can use the auto-populate feature to fill in the data. Once populated, you can edit the income and expenses varying in frequency and amounts.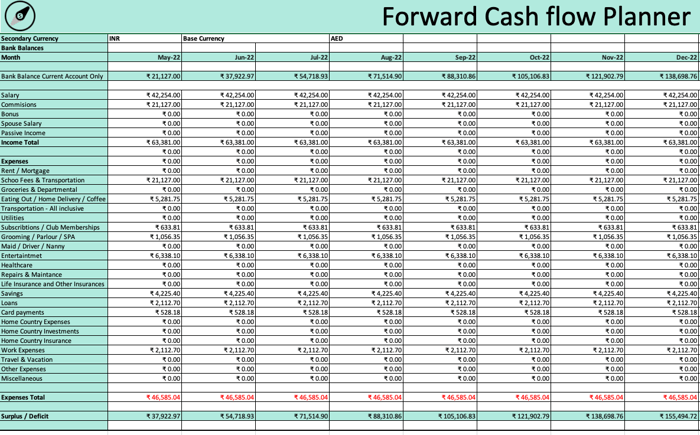 Data Privacy
Unlike many smartphone apps, which collect a ton of user data, this template does not collect any data at all. As this is a simple excel template, your data is stored in your system, so you don't have to worry about the safety and confidentiality of your crucial financial data.
The only flip side is that you will not see targeted ads on your social media feed enticing you to buy stuff at a discount.
GPS
When you use this together with a Personal Balance Sheet Template, they both can give you a clear idea of where you are with your money today and where you can be in 12 months from now.
Potential Wealth
This template shows you how much wealth you can accumulate if you invest your annual surplus at a growth rate of 8.00%
Needs, Wants, Savings and Loans.
The Forward Cashflow planner also classifies your expenses into needs, wants, loans, savings and investments. A simple doughnut chart shows you how much you spend on each of these heads.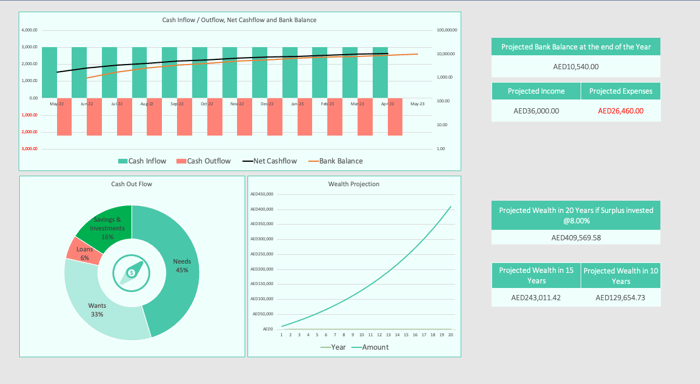 No Sign-up or Optin is required.
The cost of this template is $25, but it is complimentary for a few days, on only two conditions though;
You will give me your honest feedback if you found it helpful and if there is any improvement you can suggest or a flaw you can point out.

You will share this with your network with a comment or two on the usefulness of the Forward Cashflow Planner.
Click the link below to download the Forward Cashflow Template. Absolutely Free, No Sign-up or Optin is required.
Go ahead, grab this opportunity, plan your cashflows and let me know your feedback.