Zurich Simple Wealth, as the name suggests is a simple & straightforward lump-sum investment plan helping you grow Wealth.
It is also the most affordable lump sum investment offered by an insurance company in UAE.
This plan has 3 unique features simplifying the investment process, without compromising on the possible returns form the investment.
The following video gives you a brief idea of the simplicity and effectiveness of the plan;
The 3 unique features are as follows;
1. Low Initial Investment & Flexible Adhoc Investment
You can start this plan with as low as $15,000 or AED 55,162.50 and add additional premiums of $1,500 or more as and when you prefer.
2. Right and Robust Choice of Investment Funds
The Simple Wealth Plan has a small but very robust choice of Zurich Managed Funds to match your investment goals and risk appetite.
The following are the 5 funds you can choose from;
Click the following links to download the investment guides
3. No Fixed Term or Contract - Stay Invested as long as you want.
This is a plan with open maturity, you can remain invested in this plan for as long as you want, however, surrender charges apply during the first 3 years only.
The surrender charges during the first 3 years are as follows;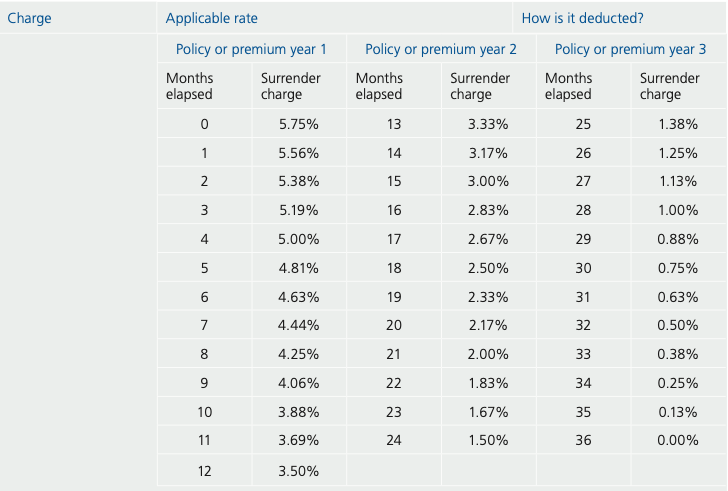 For more information about the Simple Wealth Plan download the Key Features Document using the following link;
Simple Wealth Zurich - Summary & Review
This plan is ideal for investors looking for a simple but effective investment strategy.

As the funds are managed by Zurich, there is no need for frequent review or rebalancing of the investment strategy(especially Bluechip, Performance & Adventurous)

The low initial investment($15,000) and ad-hoc additional investment(1,500) can be very helpful for investors who do not want to enter into a contract

No surrender charges after 3 years seals the deal by providing full access to your funds at the end of 3 years.
Independent & Professional Advice
As Qualified and independent financial adviser a have more than ten years experience in helping UAE residents make informed decisions with their money.
I work with many insurance and investment providers; hence I can provide unbiased & expert advice.