What is term insurance and why I should buy one?
Term Insurance is an affordable and popular form of Life Insurance.
It is like a safety net that can protect you and your family against the loss of income and secure their lifestyle, goals, and aspirations.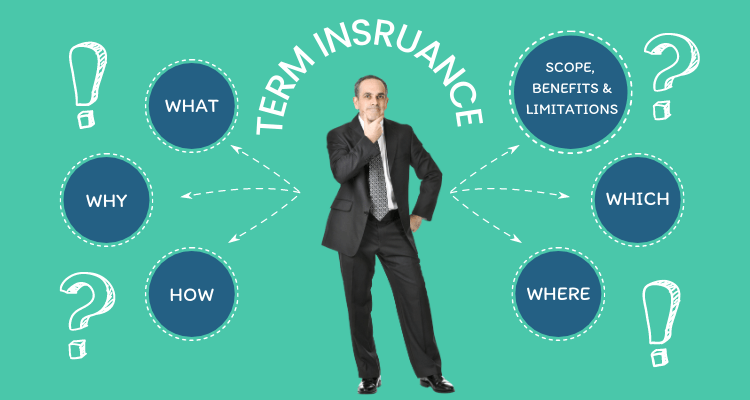 In this post, we will discuss term insurance's features, benefits, and limitations to understand what it is and why purchasing a term insurance policy is a wise financial decision.
In this article:
What is term insurance?
Term Insurance is the simplest and the most affordable form of life insurance. It provides you with life cover for a definite number of years. Typically between 5 - 40 years.
The cover amount, term, and premiums payable are fixed at the start of the policy.
You are covered until the end of the term as long as you keep paying the premiums due. If you stop paying the premiums, the cover ceases after a certain grace period.
Features of Term Insurance
Choice of Riders:
You can enhance the scope of your term plan by adding one or more of the following riders;
Permanent & Total Disability
Accidental Total or Partial Permanent Disability
Accidental Death Benefit
Passive War Risk Benefit
Waiver of Premium
Family Income Benefit
Forever Benefit
Cheap when young
Term Insurance premiums are low when availed at a young age, and the premium increases as the person grows older. Hence youngsters are advised to avail up to 10 - 20 times of annual income as life cover as early as possible.
Doing this ensures that your life cover premiums are locked at the time of purchase of the term insurance.
The following table shows the premiums payable on a Million Dollar life cover over different ages of a non-smoking resident in UAE;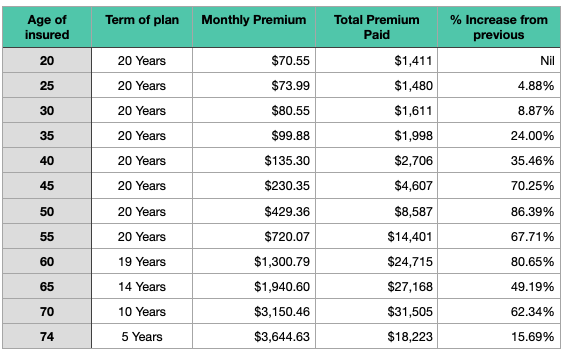 Benefits of Term Insurance
There are many benefits to owning term insurance, including:
Affordable premiums:

Term insurance premiums are typically lower than Whole life insurance premiums. This is because term insurance only provides coverage for a specific period of time, while Whole life insurance provides coverage for the insured person's entire lifetime.


Flexibility:

Term insurance policies can be customized to meet your specific needs. You can choose the length of the term, the amount of coverage, and any riders that you want.
What happens if I outlive my term plan?
If you outlive your term insurance, then you don't get back any premiums you paid into the policy.
It is much similar to renting a house. You can live in it as long as you pay the rent agreed upon. If you stop paying rent, then you may be evicted. When you vacate the house, you don't get back the rent paid.
Types of Term Insurance
1. Level Term Life Insurance
Your life cover amount remains the same throughout the term of the plan.
With level term assurance, premiums are fixed for the duration of the plan.
It is typically used to protect against loss of income, as key person cover to protect business continuity.
The cover amount reduces by a fixed amount each year, ending up at zero by the end of the term.
Because the cover amount reduces, the premiums on this type of policy are lower than level-term policies.
People usually buy decreasing term insurance plans to protect a mortgage, where the amount of cover reduces with the mortgage outstanding.
This type of term assurance is less expensive than level term assurance.
Why Should You Buy Term Insurance?
There are many reasons why you might want to buy term insurance, including:
It is simple to understand and easy to set up. No frills, no confusion.

Easy on your budget - You can buy term insurance in UAE for as low as AED65 a month.

The life insurance premiums are fixed throughout the term of the plan.

Not the elephant in the room - You can also afford to invest in other financial goals because of the low premiums.

You can add riders like critical illness benefits, disability cover, Waiver of Premium, etc.,

It provides global protection - Endowment and Whole of Life plans may not be tax compliant in the USA. So if you want to migrate to the USA, the term plan is ideal.

The claim proceeds of term insurance are tax-exempt in many countries.
Limitations of Term Insurance
The 2 main drawbacks are as follows;
Fixed term
The term of coverage is fixed at the outset of the plan. You may be unable to increase the term if necessary.
You have to carefully consider many future circumstances when deciding the term of coverage for such policies.
If you choose a shorter term, your family's income or commitments are at risk, and if you choose a longer cover term than required, then you end up paying higher premiums.
No Cash Surrender Value
As discussed above, there is no cash surrender value when you outlive the plan. While this feature makes the term plans affordable, you may end up spending more when you choose a longer coverage term.
How to Choose the Best Term Insurance in UAE?
If you are considering term insurance, comparing different policies and finding one that meets your needs is important. You should also talk to a financial advisor to get their advice on whether or not term insurance is right for you.
Here are some things to consider when choosing term insurance:
The amount of coverage
The first and most crucial step is determining how much life cover is ideal to protect your family's lifestyle and goals.
The length of the term
The length of the term will determine how long you will be covered. If you have young children, you may want to consider a longer term so that your family will be protected for as long as possible.
The riders
Riders are optional add-ons that can provide additional benefits, such as coverage for critical illness or accidental death.
How are the Premiums Calculated?
The Premiums are based on the following;
Your age
State of your health
Amount of cover chosen
Policy Term
Riders Selected
Nationality
BMI
Travel history and future travel plans
Top 5 term plans in UAE
Now that you understand the scope and benefits of Term Insurance in the UAE, we can look at the Top 5 plans from various insurance companies.
How can I know more about Term Insurance?
As a financial advisor with more than 10 years of experience working with 350+ families, I can help you ascertain how much life cover you need, for how long you need it, and what riders you should choose.
Arrange a Free Consultation to discuss your protection needs and secure your family's financial future.
Click here to connect with me.
Author, Blogger & Independent Financial Advisor. My goal is to give you actionable tools for creating passive income and building wealth. More than 10,000 expats have already used my ideas to jumpstart their journey towards financial independence. Connect with me to start yours...