What goes up has to come down, and that is precisely what happened with Bitcoin and other cryptocurrency prices last week. Bitcoin crashed again on Friday after China called for a crackdown on the mining and trading of cryptocurrencies.
Chinese authorities advised the banks and payment companies to refrain from cryptocurrency transactions. It also warned investors against speculating as it is upsetting the "normal economic and financial order".
On the other side of the world, the US Treasury Department announced that cryptocurrency transfers worth $10,000 or more must be reported to the Internal Revenue Service, as it aims to crack down on illegal activities, including tax evasion.
Earlier on Wednesday, Bitcoin plunged 30% to near $30,000 at one point, wiping out about $1 trillion in market value. The sell-off began the previous week, extending its losses into the last week as well.The digital currency hit a low of $30,001.51 as the selling escalated on Wednesday before recovering a bit.
Last week's free-fall is a test for cryptocurrency enthusiasts. Many are still optimistic about its future as they tend to take the long term view. In January last year, bitcoin was trading at around $7,000, which means it's still up more than 400% from then, even after crashing this week.
In an interview with CNN Business this week, Vitalik Buterin said he wasn't surprised by the crash because he's seen it all before. Here is an infographic from Visual Capital highlighting the historical corrections of Bitcoin.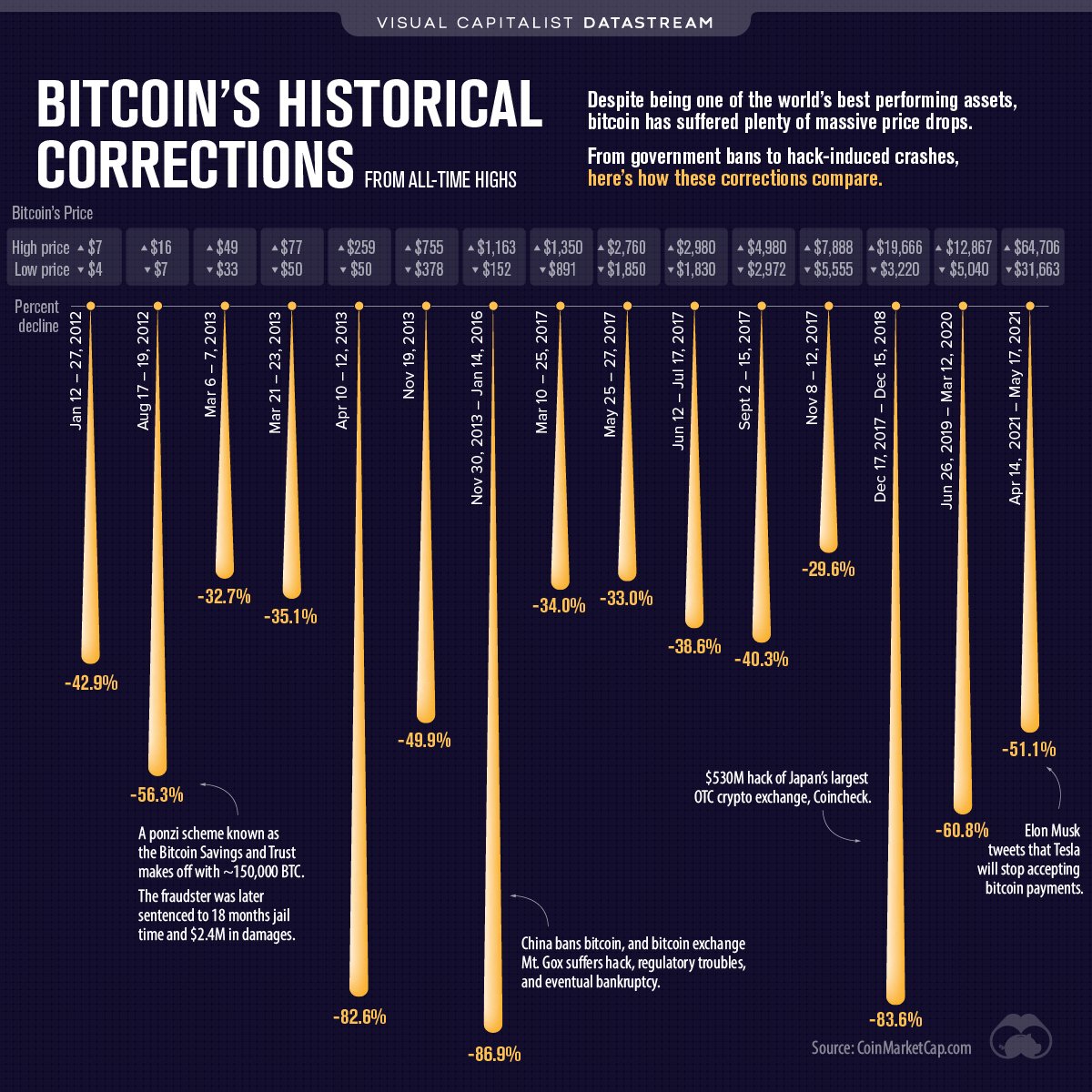 While the panic selling seems to have stopped, stabilising at $35K levels, Bitcoin enthusiasts are unsure if this an opportunity to buy or a pause before a steeper sell-off.
What about you? Are you investing in cryptocurrencies?
If yes, do you reckon now is an opportunity to buy?
Or a loud warning to stay away?
The GAiM Plan
As an Independent Financial Planner with a decade's experience, I have created a cutting edge financial goal setting and investment planning system called the GAiM plan.
Arrange a free consultation to build a personalized financial plan using the GAiM plan and receive a detailed report and investment advise including an analysis on how much you can invest in speculative assets like Bitcoin.