With earnings season in full swing, the markets maintained their bullish stance last week. The US indices reached new heights spurred by the latest jobs report and favourable market fundamentals.

The situation is now very similar to previous recoveries in 1994 and 2010, supporting a raging bull market for a few years after full recovery.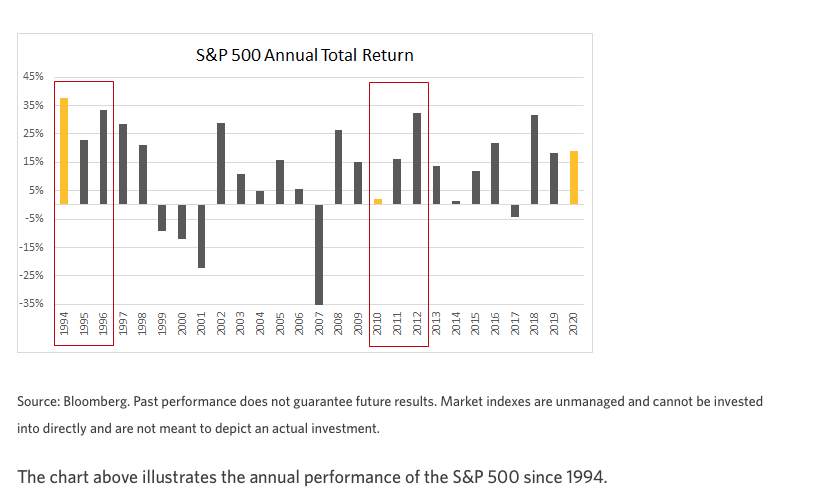 The markets are set to grow further, but not without a few hiccups caused most likely by the unrestrained spread of the Delta and/or other future variants, tapering, and inflation fears.

However, the corrections could be good entry points with investors waiting on the sidelines to enter and those looking to lower their average holding price.

This market phase is also favourable for SIP or regular savings plans.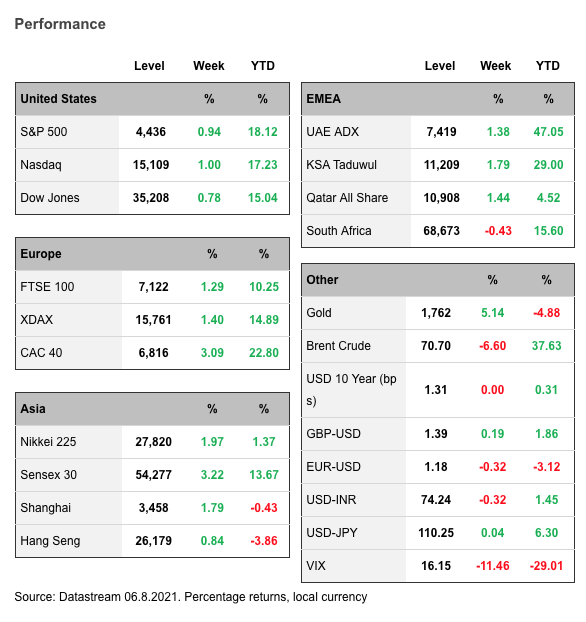 Chinese Rebound
After a sharp decline due to regulatory fears, Chinese stocks and bond markets recovered last week, attracting both domestic and international investors.
India - Status Quo
In India, the Reserve Bank kept the monetary policy and the rates unchanged. During the week, the nifty and the Sensex reached new highs touching 16,349.45 and 54,717.24, respectively.
Europe and UK shine
European equities also rose at the back of solid growth in corporate earnings and anticipated economic recovery.
The STOXX Europe 600 Index ended 1.78% higher

France's CAC 40 Index advanced 3.09%

Italy's FTSE MIB Index climbed 2.51%;

Germany's Xetra DAX Index added 1.45%.

The UK's FTSE 100 Index gained 1.29%.
Tumbling Barrels
The US crude oil prices saw their most significant weekly drop in the last five months, falling almost by 8% to $68 per barrel. Oil prices have fallen in part over concerns that the Delta variant's spread could weigh on economic growth and reduce travel, particularly in China, where the government has imposed new travel restrictions.
The Return of the Bitcoin.
The price of Bitcoin also continued to rise and crossed $44k today. While it is still far from the all-time high of $63k, it has rallied quite strongly (40%), indicating growing investor confidence.
Summary
The investor's confidence is riding high, and many asset classes are at or near their all-time highs. This bull market seems to have more steam left.
Subscribe to his blog for news, views on Financial Planning, Investments and Insurance.