Useful Financial Resolutions To Make And Keep In 2022 And Beyond.
How often have you read an article on Financial resolutions and found it irrelevant to your situation?
My guess is at least more than once!
You might have found that the resolutions suggested were either too big or too small for your financial situation. Or maybe they were vague or for a different audience altogether.
Here is a blog post suggesting a few new year Financial resolutions for UAE residents. They are classified under the following heads to make them more relevant to your particular situation;
Beginner

- You have just started earning, and/or you are seeking financial security.
Progressing

- You have achieved Financial Security, seeking financial wellbeing.
Flourishing- You are Financially Stable, and now you are looking to grow wealth and create passive income.
Affluent -You are a seasoned investor with a steady income, some wealth, and one or more passive income sources. You are seeking Financial Freedom and creating a lasting legacy.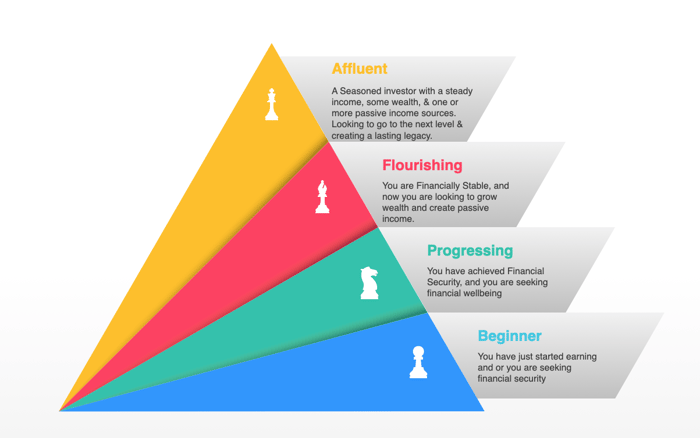 Read the whole list if you feel like it, or just skip over to the relevant category.
Financial Resolutions for Beginners
Create a Budget - While it looks obvious, many residents don't have one yet!
Track Income and Expenses
Start an Emergency Fund - At least three months income.
Buy Life Insurance

- at least five times your annual income with critical illness cover.
Avoid Retail Debt
Pay Off Debt if you have
Invest

for short term goals like;
Buying a Car
Travel
Marriage
Financial Resolutions for Progressors
Build a Financial Plan
Save and invest 30+% of your income.
Boost your Emergency Fund to 6 months income
Top up your Life Insurance to 10 times your annual income with Critical Illness Cover
Start investing for Down Payment for a property - Rent is perhaps your most considerable expense in UAE
Create a Sabbatical Fund for yourself or your partner to start a family
Start investing for Children's college if you have children
Build a corpus for

passive income

investing
Start investing for

retirement.
Pay Off Retail Debt if you have
Review your Financial Plan every year
Financial Resolutions for Flourishers
Build a Financial Plan if you don't have one yet
Save and invest 40+% of your income.
Boost your Emergency Fund to 12 months income
Top up your critical Illness Insurance and Disability Cover to at least five times your annual income
Start investing for Medium-term Goals like;
Down Payment for investment property(s)
Opportunity Fund for a Business Venture/Partnership or immigrating to another country
Start investing for Children's college.
Boost your retirement savings
Pay Off Mortgage(s)
Invest in passive income yielding assets
Diversify your Investment Portfolio -
Review your portfolio every six months and

rebalance

if necessary
Financial Resolutions for the Affluent
Save and invest 60+% of your income.
Review your investment portfolio every three months and rebalance if necessary
Diversify your Retirement/Financial Freedom portfolio using the 4 Buckets Investment Approach.
Achieve Financial Freedom
Buy Private medical insurance for yourself and your family
If you are a business person, start exit planning/succession planning
Plan for Inheritance Tax Implications
Make or update your Will
Create a Private Trust
Please choose one or as many Financial Resolutions you connect with and pursue them to achieve your goals in 2022 and beyond.
Happy New Year