NRI Term Insurance|8 reasons why NRI should buy Life Insurance in UAE?
T

his post provides

8 reasons why NRI should buy Life Insurance in UAE?
1. Broad and transparent Scope of Critical Illness Cover
Life insurance plans in UAE cover up to 35 critical illness and would pay a claim on the diagnosis of such critical illness.
The scope, definition and limitations of critical illness cover is well defined.
Leading insurance providers in UAE like Zurich International Life, Friends Provident, MetLife, Salama and Oman Insurance and Orient offer term insurance in UAE with critical illness benefit as a rider.
Each company has an exhaustive list of critical illnesses covered with well-written benefits definition, scope and limitation, eliminating ambiguities at the time of applying for cover and at the time of claims.

2. Critical Illness Cover up to age 74:
Insurance companies like Zurich International Life offer critical illness cover up to age 74.
While there are risks of a person developing critical illness at any age, the chances of getting critically ill are higher as the person becomes older.
Plans in India have an insufficient scope of critical illness cover, and they usually cover up to age 60.
3. Critical illness cover up to $2,000,000
Many insurance providers in UAE offer critical illness cover up to $2,000,000. Providers in India only offer less than $150,000 and for 30 or lesser number of years.
It is recommended to have at least 3 to 5 years of income as critical illness cover. If your income is more than $30,000 per anum, then you should seriously consider buying term insurance in UAE.
4. Transparent and comprehensive underwriting
Thanks to vast experience in covering critical illness, insurance providers in UAE have developed thorough underwriting system. Hence they ask the right questions and conduct necessary tests before accepting risk on a term insurance plans.
This comprehensive underwriting activity eliminates the possibility of delays in claims; hence the providers in UAE have good claims settlement record on critical illness and life insurance claims.
On the other hand companies in India have recently started offering critical illness plans. Hence the precedence of claims is hardly there, making it difficult to understand the claim process of such policies.
Events like the current Covid-19 lockdowns can make claims processing more challenging for NRIs outside India.
5. Ease of Claims
Insurance companies in UAE have acquired a vast experience gained by operating in many countries, they have developed a robust system of underwriting, claims processing and settling.
Companies like Zurich, MetLife, Friends Provident Oman Insurance, LiC international and Salama provide a well-developed customer support via their call centre and their offices across UAE.
6. Internationally Portable and Tax effective plans
Term Insurance Plans in UAE are portable internationally. They continue to cover the insured during their travel and after a change in residency for all the benefits availed as a resident in UAE.
Continuity of protection when changing residence from one country to another is an essential and helpful feature of term plans in UAE.
Otherwise, the cost of insurance would go up every time the insured has to buy a new policy when moving to another country, as the insured would older than before, and also the risk of non-insurability increases.
7. US Dollar-Denominated Plans
All insurance providers offer Term Insurance plans in US Dollar denomination, which is an ideal risk against a falling rupee. Rupee value has continuously been depreciating for the last 40 years, and more rapidly in the previous few years.
Given the rapidly growing population in India, which has to be fed, clothed, entertained and treated for medical ailments. India has to rely on imports mainly for crude, coal, cooking oil technology, medicines, defence equipment and much much more...
The steadily increasing demand for imported goods and services will create more demand for US dollar, a medium of exchange for international transactions, further depreciating the Indian rupee.
The following chart shows the extent of rupee depreciation in the last 10 years, highlighting the adverse impact on your rupee denominated insurance or investment plans.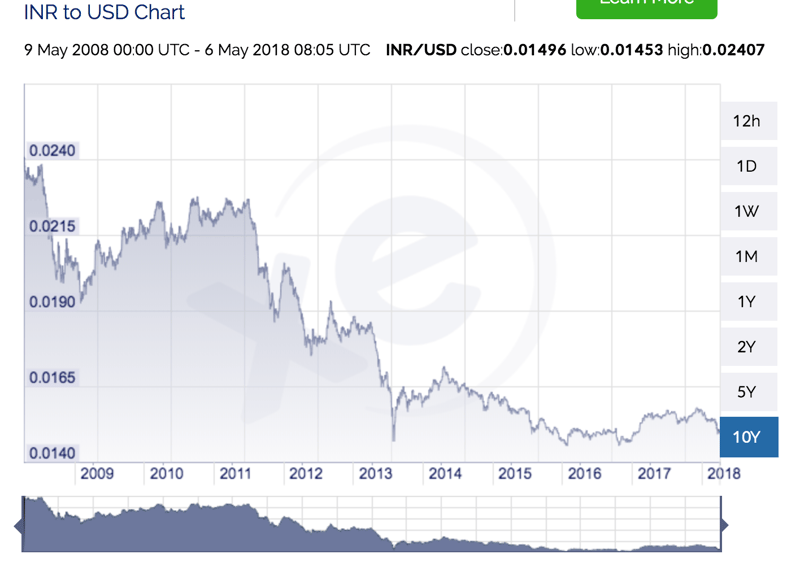 Indian Rupee has depreciated by more than 60% in the last 10 years, approximately 6.00+% per year.
8. Easy access to Insurance Proceeds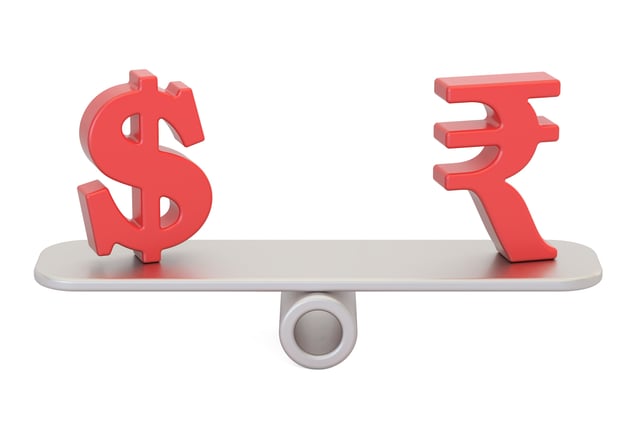 Term insurance plans in UAE are portable. You or your family can claim to receive the benefits from any part of the world, making it easier to pay for money requirements outside India like;
Paying off loans and mortgages if you have any in our outside UAE
To enable your family to continue living as expats in UAE or any other country. This allows the children to complete their education up to a certain age

Paying for higher education costs of your children for studies outside India

Enabling you and your family to continue to live in UAE in the event of diagnosis of a major illness, without worrying about paying bills like rent/mortgage, school fees, medical costs etc.,
On the other hand; access to funds outside India from insurance proceeds of plans in India can be very challenging. You may have to go through elaborate approval processes, currency risks, charges and tax implications.
Summary
When looking to avail a term insurance plan in UAE, an expat should consider the 8 points mentioned above.
What about you?
Have you covered adequately for loss of income due to death disability or most importantly critical illness?
If not, what is stopping you?
Schedule a free consultation to discuss your protection needs and avail professional help in choosing the most suitable Life & Critical Illness Insurance.