Jeevan Anand is a combination of a savings plan and Whole of Insurance.
It helps you achieve two goals with one plan, viz Wealth Accumulation and leaving a legacy for your loved ones.
How does it work?
There are two possible scenarios of a claim payout and Maturity of the plan.
Scenario 1: Policy Owner survives until the Maturity
Like an Endowment Policy, Jeevan Anand will payout the Sum Assured with accrued bonus on Maturity and then it will continue to provide Whole of Life Cover.
On the death of the insured after Maturity, the policy will pay the Sum assured again to the beneficiaries.
After Maturity, the policy also provides a facility to surrender the life cover in lieu of cash value. Investors who are not very keen to continue the life insurance can cashout to maximise the returns on the plan.
Scenario 2: Life insured does not survive until Maturity
Jeevan Anand pays the Sum Assured with accrued bonus on death, and the policy ceases to exist.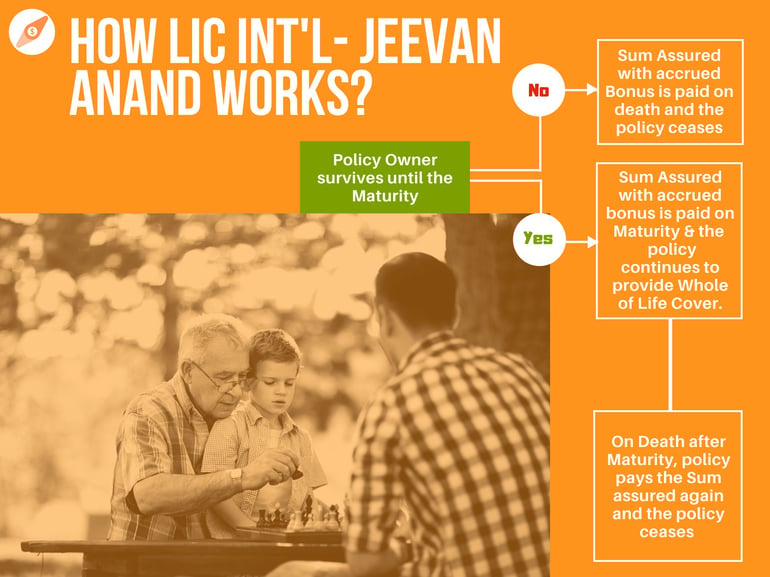 Who can invest in this plan?
This plan is ideal for expatriates looking to save for long term goals like retirement or children's higher education, with the whole of life insurance. It helps them save and protect at the same time.
Plan Features
Particulars
Minimum
Maximum
Sum Assured
USD 5000 & then multiples of USD 1000
No limit
Age at Entry
18 Years
65 years (age nearer birthday
Age at Maturity
23 Years
70 Years (Nearer Birthday)
Term
5 years for regular and 15 years for Single Premium Policy
20 Years
Mode of Premium Payment
Yearly, Half Yearly, Quarterly, Single
Policy Loan
The Policyholder can avail a loan against the policy from LIC International, after three years of regular premium payment or after two years of a Single Premium Plan.
Paid Up value
Our financial situation may not be constant throughout the term of the plan, and this should not be a reason stopping you from investing for your future.
After paying premiums for a minimum period of 3 years, if you are unable to pay further premiums; you have the flexibility of stopping future premiums by making the policy paid up.
Once the policy is made, paid-up LIC Int'l will reduce the Sum assured and other benefits in proportion to the premiums paid.
Choice of Premium Payment Term
You can choose to pay your policy premiums from the following options;
Full Term - Throughout the term of the plan

Limited-Term - 5 years only

Single-Premium
Portability
If you are an NRI(Non-Resident Indian), you can have the policy serviced by a LIC branch in India if you prefer to do so. However, you would have to convert the policy to rupee denomination.
You may keep the policy as it is in USD denomination and have it serviced by your financial advisor in UAE
Pros & Cons
Top 3 Benefits
A unique combination of Endowment and Whole of Life Insurance

Option to surrender the life cover port maturity

Possibility to make the policy Paid-up after 3 years if necessary
Top 3 Limitations
Not the most affordable way to buy a Whole of Life Insurance. If you are looking for one, also consider Zurich Futura

Jeevan Anand does not include Critical Illness benefit

The growth may be as good as ULIPs during bull markets.
Last Word
Jeevan Anand Policy can be the right choice if you are looking for disciplined long-term capital accumulation with stable returns and a Whole of Life Insurance.
Expert Advice
Schedule a Free Discovery call to know more about this plan and to understand if Jeevan Anand can help you achieve your protection/investment goals