Double Trouble?
The markets opened in the red last week, continued to struggle until Thursday, and then they recovered some lost ground on Friday, led by Tech, healthcare and utility stocks.
Global markets have come a long way from the pandemic lows, with the S&P 500 leading the way and doubling from the intraday lows of 23rd March 2020.
The three main reasons pulling back markets are;
Prospects of the Fed tapering bond purchases

The resurging threat of the Delta Variant

Regulatory challenges in China
While the bears see this as Double Trouble, the bulls thought otherwise and continued to buy on Dips.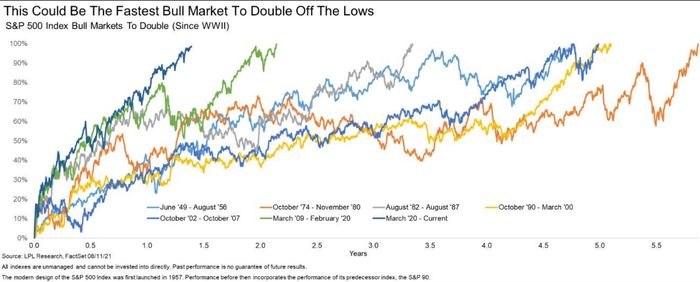 Source: Marketwatch
Taper tantrums were pronounced when the Fed slowed down bond purchases in 2013, but the situation is now different.
In 2013 unemployment was at 7.5%, GDP growth was a shade below 2%, and core inflation was hardly 1.7%. In 2021 the US GDP's conservative growth outlook is 6.5%, unemployment at 5.4% and inflation at 5.4%.
The bulls believe that the Fed not tapering would rather be a cause for concern with these numbers.
Other factors encouraging the bulls were;
Strong buybacks - With companies sitting on piles of cash, they are on a buyback frenzy in 2021, indicating a positive outlook

Increasing Revenues and Dividends - 2021 has seen some extraordinary corporate earnings, and the outlook is still bullish, encouraging companies to payout/increase dividends.
Europe
The European stocks also were down last week in response to the spread of the delta variant, the situation in Afghanistan, and slowing growth in China.
The EURO Stoxx Index was down by 1.48%.

France's CAC 40 -3.95%

Germany's Xetra DAX Index -1.14%,

Italy's FTSE MIB Index -2.78%

UK's FTSE 100 Index -1.84%.
China
After the clampdown on Tech and Education companies, there are rumours of new regulations on Liquor and Health care companies in China. The markets were down last week anticipating fresh regulations;
T Shanghai Composite Index fell 2.5%, while the CSI 300 Index of large-cap stocks shed 3.6%
India
Indian markets also were down on global cues; the Sensex ended the week at 55329, and the nifty at 16450.
Outlook
The market is moving past the euphoria type of rally, and now is the consolidation stage where the fundamentals matter the most. The fundamentals are still strong, so the outlook remains positive.
Any potential corrections are being viewed as buying, or rebalancing, opportunities.
Goal-based investing, prudent asset allocation in line with risk appetite and market sentiments, periodic review and rebalancing are proven mitigants to market risks.
Subscribe now to receive this weekly market update.
Arrange a Free Online consultation to know more about investing opportunities to grow wealth and achieve your financial objectives.