Last week was quite busy with a lot happening in and around the markets. They moved up and down, ending the week lower, but only by little.
Shares of Robinhood were listed on Nasdaq on 29th July with an opening price of $38. The share price dropped by 12% intraday and recovered later to end the day at $34.2
The top four factors that shaped the markets last week were;
Corporate earnings

Economic Data

Fed Meeting

Chinese Equity sell-off
Corporate Earnings
Forward earnings expectations continue to rise swiftly in response to the stellar results posted by large-cap US companies.
About one-third of the S&P 500 companies declared their quarterly earnings last week. The most prominent among them were; Apple, Amazon, Microsoft, Facebook, Google, and Microsoft, which together make up to 22.5% of the S&P 500. Their earnings have doubled from last year.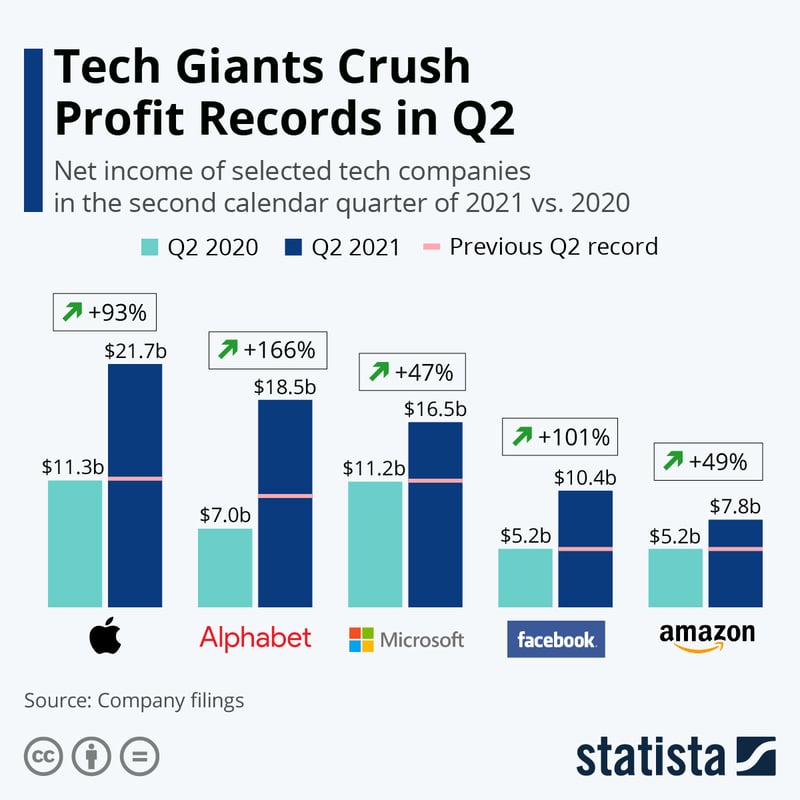 Source: https://www.statista.com/chart/24775/gafam-net-income/
Amazon shares fell by 7.00% last week in response to its first revenue miss in three years and a week outlook for Q3. Amazon posted a revenue of $113.08 billion vs estimates of $115.2 billion.
Economic Data
Despite the supply chain bottlenecks and inventory shortages, The US economy grew at an annualized rate of 6.5% in the second quarter.
It is now back and above its 2019 peak, staging a full recovery from one of the deepest and shortest recessions, thanks to unprecedented fiscal and monetary support.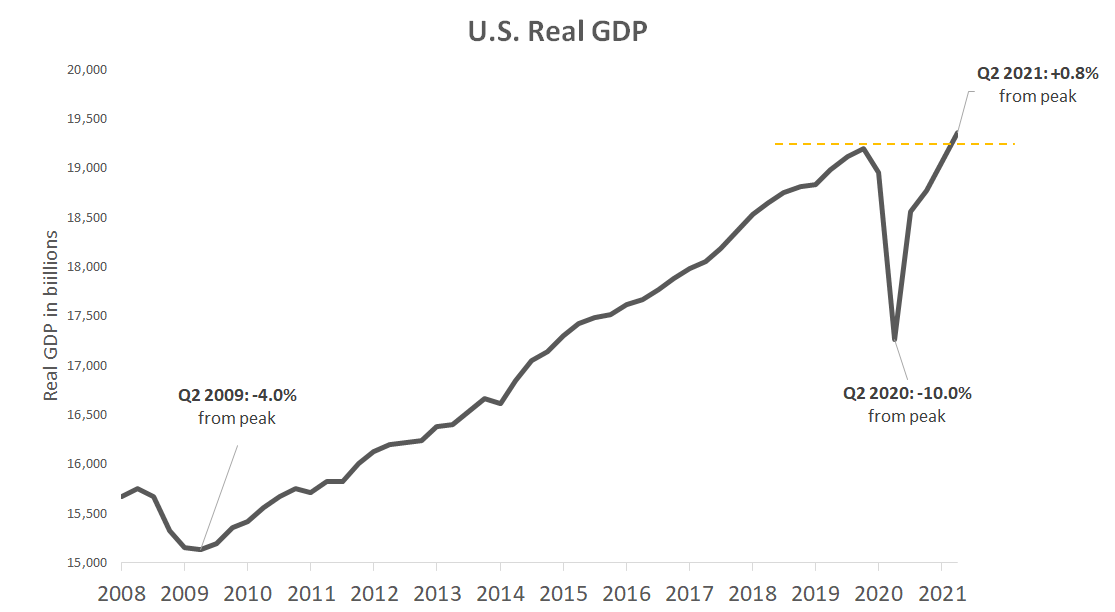 Source: Factset
However, the business cycle is still in the recovery phase and is expected to grow through 2021 and 2022.
Fed Policy Meeting
The US federal reserve made no changes to the monetary policy or its Quantitative easing program as expected. However, its statement was hawkish, noting that steady progress has been made on the employment and inflation goals, and tapering could be on the cards sooner than later.
Chinese Equity sell-off
The Chinese equities extended their decline, dragging the MSCI Chinese index down by 26% since Feb 2021. Investor confidence took a further beating with the changes to new rules affecting private education companies. In response, Chinese equities declined by 13% last week. Despite this hiccup, the Chinese economy is still expected to grow faster than developed economies in the next few years.
Outlook
Despite regulatory challenges in China, supply chain bottlenecks and a slow growth outlook, the fundamentals are still strong, and the economy is still in expansion mode. The bull run is expected to continue, albeit with intermittent volatility.