Is DEWA IPO a good Investment?
In the last few days, many clients, friends, and colleagues have reached out to know if the DEWA IPO is a good investment?
So I decided to post a blog on this for the benefit of one and all.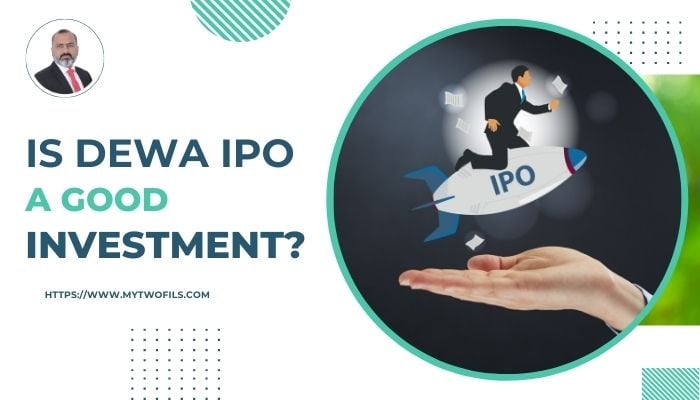 But, before we discuss the DEWA IPO opportunity, let's first understand the basics of an IPO.
What is an IPO?
IPO is an abbreviation of the word Initial Public Offering. It is a process by which a privately held or a government-owned entity offers a part of the ownership to the general public.
It is an opportunity for individuals and institutional investors to acquire a stake in upcoming or established companies at a fair market value before being listed on the stock exchange.
Once the subscription and allotment are complete, the company is listed on a stock exchange like Dubai Financial Markets(DFM), Bombay Stock Exchange(BSE), New York Stock exchange(NYSE), London Stock Exchange(LSE), etc...
You can freely trade in the company's stocks/shares when listed on a stock exchange at the market price.
Why Companies Go Public?
One of the most common goals of companies is to grow. But companies typically reach a certain threshold or a glass ceiling, beyond which it would be not easy to grow without more resources, notably capital.
Imagine Apple's Market Cap if it was still owned only by the initial promoters, friends, and family. Do you think it would have touched 3 Trillion Dollars?
Very Unlikely!
The growth of Apple as one of the favorite technology brands also may not have been possible.
So the listing of Apple on NYSE and Nasdaq enabled it to raise large sums of money. They could invest this money in Innovation, Production, and Marketing, making it one of the biggest companies in the world.
So, now we understand that an IPO is an ideal solution for companies looking to raise capital.
It helps them grow, expand, diversify, innovate, acquire, and take on opportunities and risks they could not otherwise afford.
Now Let's discuss the DEWA IPO opportunity.
About DEWA
DEWA is one of the most efficient companies in the World. It is profitable and has a very low debt on its balance sheet.
It has a 70% stake in Empower, the world's largest district cooling services provider.
DEWA also owns Mai Dubai, Digital DEWA, a digital business solutions company, and Etihad ESCO; a company focused on developing and implementing energy efficient solutions.
Important Dates of DEWA IPO
15th March 2022 - Announcement of Intention to Float on the DFM
24th March 2022 - Commencement of Retail Subscription
02nd April 2022 - Retail Subscription Closing
06th April 2022 - Notification of Allocation
11th April 2022 - Refunds of unallotted subscription
12th April 2022 - expected listing on the DFM
Why Invest in DEWA?
To participate in the growth story of one of the world's most innovative and efficient companies with solid fundamentals and a robust growth outlook.
Dependable source of passive income - DEWA expects to pay a dividend of AED 6.2 billion per annum over the next five years (October 2022- April 2027).
Appreciation of capital as the share price increases in the future
Relatively Stable share prices and appreciation
Liquidity - Can sell the shares on DFM at market rates.
It is a Sharia Compliant Investment
How to Invest in the DEWA IPO?
You need a DFM Investor Number (NIN) to apply. If you don't have it yet, you can get one instantly on DFM Mobile App or DFM eServices.
Approach one of the local receiving banks to subscribe. Visit the DEWA IPO page to see the list of receiving banks.

Each bank has a digital application process. You can also contact your RM to help you with the application process.
You will be notified about the allocation on 6th April 2022
Ans / Or, You will receive a refund of Unallocated funds on or after 11th April 2022
Summary
DEWA IPO is a good investment opportunity if;
You are interested in building wealth by participating in its growth story.
Looking to generate regular passive income in the form of dividends
Willing to hold the investment for the long term despite intermittent volatility
You are not intending to speculate on short-term or ultra-short-term opportunities.
You have only 6 days including today to subscribe. Apply now if you are interested and feel free to contact me to discuss more on this by clicking the link below.