Day 26 - Children's Day
How to be a good parent?

How to manage your money efficiently?
Like me, do you also wonder why these two essential life skills are not taught at school?
You are forced to learn these skills on the job, with lots of trial and error.
No wonder people struggle with these big time.
I am a big advocate for adding these two aspects to the school/college syllabus to the extent that children have some basic idea of parenting and money management by the time they hit the real world.
While this idea takes shape, as a parent, It is up to you to ensure that your children can handle them easily.
Welcome to day 26 of the Win With Money Challenge. Today is Children's day.
We are going to discuss three crucial financial aspects involving your children;
Enhancing their Financial Literacy

Setting up a bank account for them

Planning to save and invest for their future.
What is Financial Literacy?
Your ability to make informed decisions about money is called Financial Literacy. Individuals with higher financial literacy tend to have better financial outcomes, including higher savings, lower debt, and greater wealth.
Financial literacy is essential for individuals of all ages, from children to seniors. The earlier your children develop financial literacy skills, the better equipped they will be to make informed financial decisions.
With the advent of Digital technology, the financial landscape has changed drastically, making it easier to access financial products and services for both young and old. However, it also increases the risk of financial scams and other forms of financial exploitation.
So it is important to create financial awareness in your children.
Bank Account for your Children
Leading banks in the UAE offer bank accounts for your children from the ages of 8 to 18. A bank account is the first step toward real-life money management and building a savings habit.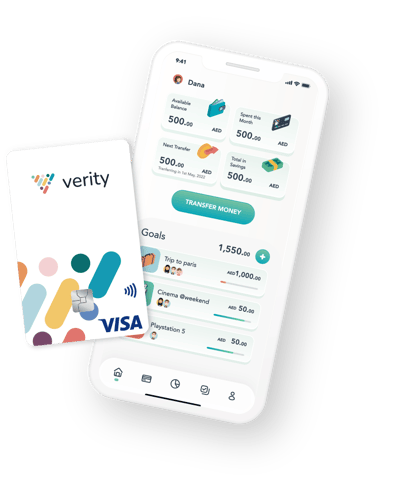 Visit your bank tomorrow or next weekend and open a bank account for your children. Take a selfie with your children and preserve this memory for their lifetime.
There are also digital apps like Verity. It is MENA's family app for you and your children.
This app helps you teach your children ages 8-18 the value of money as they learn to earn, save, give, and spend through the Verity money management app and with their prepaid card.
You have all the settings and tools to create a safe environment for your children while providing them access to real-life money experiences.
*Disclaimer - This is NOT a paid endorsement.
Planning to save and invest for your children's future.
The world we know is changing very fast and getting more competitive. It is crucial that you provide your children with an excellent platform to help them launch their careers and fuel their futures.
Start planning at the earliest to make it easy to give your money enough time to grow.
So this was the task for Day 26.
See you tomorrow.