While we in the UAE had our long EID break last week, the Global markets were on a roller coaster ride! The DOW started the week with a 700 point drop bringing back the doomsday predictions, only to banish them the next day.
On Monday, the markets sold off over fears of the "Delta variant." and the dip buyers emerged to pull the markets up.
Also, the Q2 earnings dimmed the fears of spikes in the Delta variant. Last week about 25% of S&P 500 companies have reported Q2 earnings, with 76% of them beating expectations on more than one factor.
The Dow, S&P500, and the Nasdaq recovered swiftly and hit record highs last week. While Monday's drop does not count as a correction, it is undoubtedly a sign of the markets becoming more complicated and narrow in the short term.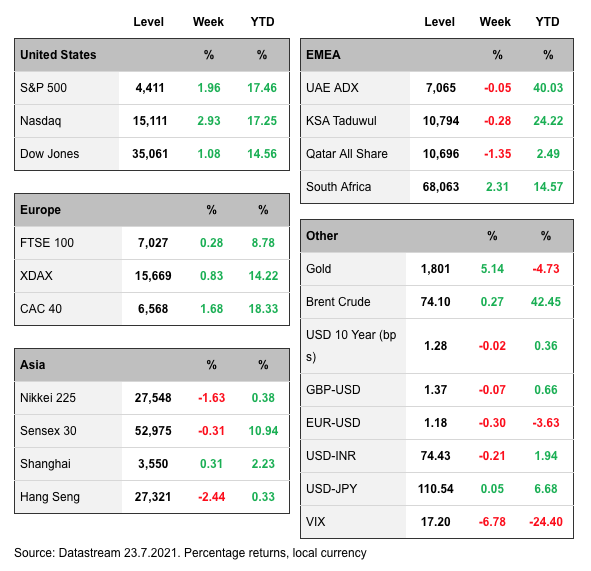 The following are factors that can contribute the market volatility over the next few months;
The persistent spread of existing and potential variants of the virus may warrant more lockdowns.

Taper tantrum in response to the hawkish Fed policy

Fears of a potential slowdown of GDP growth after 2021 and rising inflation. Experts believe that the global GDP growth will grow by 6.00% in 2021 and by 4.4% in 2022

Concentrated growth among a few mega-cap tech names (i.e., Microsoft, Google, Amazon, Facebook) lifting the indices(S&p 500, DOW and Nasdaq)
As it is clear that there will be intermittent market volatility over the next few months, it is crucial to focus on the foundation of this market which continues to be robust in expert opinion.
Despite the hawkish tone, the Fed is still accommodative and committed to supporting the markets and the economy.

The US and few other economies are poised for above-average growth through next year.

Corporate earnings are continuing to grow at a healthy pace, and they are likely to support the high valuations this year and the next.
Subscribe to the blog for regular weekly market updates and interesting articles in personal finance, investments and insurance.
Feel free to share your views on the above article in the comments below.
You can arrange a Free Consultation with me to discuss Financial Planning, Investment/Insurance Advice.