A False Alarm...
It was like unwelcome rain on a desert safari on Monday last week when the markets were down across the world.
Even before the week started, the Chinese Evergrande debt default crisis was at full steam.
Additionally, the US debt ceiling, potential tapering this year, cryptocurrency crash and the inflation woes pulled back the global markets.
After Wednesday's FOMC meeting, Chief Jerome Powell announced that the interest rates would remain at zero, and the bond purchases would also continue at the current pace.
He added, "Policy will remain accommodative until we achieve maximum employment and price stability goals."
members of the Fed committee were split on the interest rate revision, with at least 50% indicating an increase in 2022.
Many analysts are interpreting this as a hawkish tone. However, the markets have almost ignored this and all other negative news and rallied from Wednesday to reverse the losses.
While the Evergrande debt crisis is far from over, investors globally breathed a sigh of relief when the company paid the interest payment due to local bondholders. Thankfully this made in China crisis doesn't seem contagious, at least for now.
Given the pent up savings and the resilient bull run, investors waiting on the sidelines; rushed in to buy the dip.
Both the S&P 500 and the DOW recovered to end the week marginally up by 0.2% to 4,455 and 0.1% to 34,798.
The Nasdaq index was marginally down the third week in a row, ending at 15,048.
While the indices were down marginally, the average shares were down by almost 14% on Monday. It highlights the benefit for retail investors, of investing in well-diversified Mutual funds or ETFs instead of concentrated stock portfolios.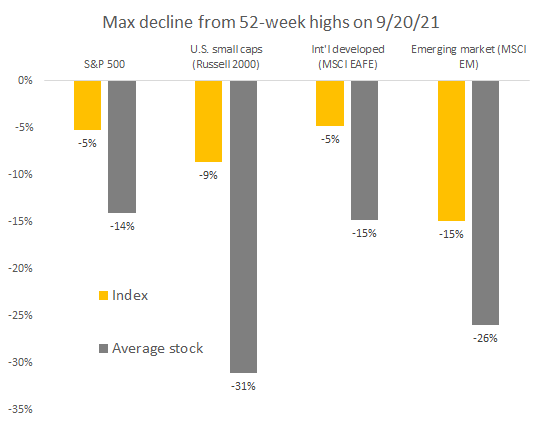 Source: FactSet & edwardjones.com
Europe
The Chinese debt crisis could only cause a minor dent in investor confidence in Europe. They are pretty optimistic about continuing economic expansion, despite concerns about a gradual withdrawal of central bank support.
The Euro STOXX Index was up by 0.31%

Germany's Xetra DAX rose by 0.27%,

France's CAC 40 Index gained 1.04%,

Italy's FTSE MIB Index rose by 1.01%.

The UK's FTSE 100 Index was also up by 1.26%.
Japan
Stocks in Japan were down last week, with the Nikkei 225 Stock Average closing at 30,248.81. The latest pre-election polls continue to favour Taro Kono to replace outgoing Prime Minister Yoshihide Suga.
It is expected that he will support additional stimulus measures and the central bank's current accommodative policy.
China
Chinese stocks were flat during the week, thanks to the central bank's $18.6 billion cash injection into the system.
It is likely that China will let Evergrande fall, but in an orderly fashion with a proper restructuring. The company still has many assets(core property, an electric vehicle business and a property services unit) that can be disposed to reduce its debt.
The last week's crisis call now seems more like a false alarm, given the negligible percentage of Evergrande's debt to China's total banking assets.
India
While the global markets were on a roller coaster ride, Indian markets continued their upward swing last week. Sensex breached the 60,000 mark on Thursday to end the week up by 1.75% at 60,048.47. Nifty was up by 1.52% to settle at 17,853.20.
The Indian economy is on track to grow by 10.00% in 2021 and by 7.50% in 2022, boosting the confidence of both domestic and FII investors.
Outlook
Despite intermittent challenges, the investor confidence is still high and "Buy the Dips" seems to be the mantra, at least for now.
Retail investors are better off staying invested in a diversified portfolio of quality Mutual funds/ETFs.
Concentrated stock portfolios or leveraged positions are more prone to market risks in the event of a correction or crash and hence may be avoided.
Expert help
As ex-pats, we all have unique financial goals and situations

We may also have limited resources and face many challenges( both internal and external), making it difficult to achieve our goals.
The GAiM plan is an end to end financial planning, investment advisory and portfolio management system.
It can help you optimize your ex-pat income and savings to grow wealth, create passive income and achieve your financial goals.
Arrange a free GAiM plan session by clicking the link below.