The much anticipated Fed meeting failed to provide any direction on the potential tapering this year. Powell's statement that tapering would be conditional upon economic outcomes boosted the bulls' confidence.
US GDP grows at the rate of 6.6% in Q2, slightly higher than the expected rate of 6.5%. In response, the US markets also continued to rise, reaching a new high for the 52nd time this year.
At this rate, 2021 will be the second most since 1928. We have also seen similar rallies in 2014 and 2017.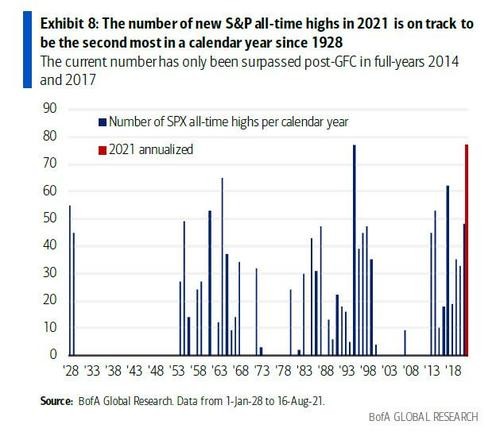 The US stocks witnessed a strong rally last week, recovering from a mild stumble in the previous week. Tech stocks lead the way, with the Nasdaq ending the week higher than the S&P 500 and Dow Jones by a significant margin. The Russell 2000 small-cap Index also posted impressive gains.
Corporate buybacks continue to accelerate in August, with financials overtaking Tech companies in the buyback spree.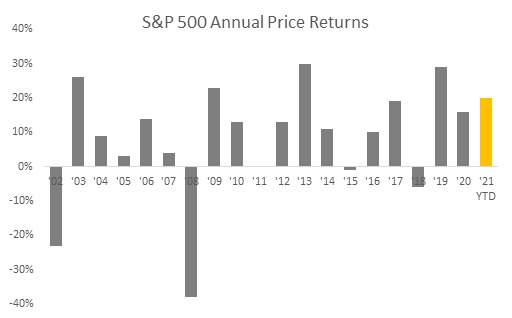 Source: Bloomberg, S&P 500 Index, the S&P 500 is an unmanaged index and cannot be invested in directly. Past performance is not a guarantee of future results.
Europe
The eurozone economy continues on the path to recovery and expansion in August. The Purchasing Managers' Index (PMI) came in at 59.5.
PMI or Purchasing Managers' Index (PMI) indicates the level of business activity in the manufacturing and services sectors in a given period. A reading above 50 means expansion in business activity. Anything below 50 denotes contraction.
Shares in Europe continued to rise on a solid economic outlook, rapid vaccination and accommodative monetary policy.
The Euro STOXX 600 Index advanced by 0.75%.

France's CAC 40 Index climbed 0.84%,

Italy's FTSE MIB Index ticked up 0.34%

Germany's Xetra Dax Index added 0.28%.

The UK'sUK's FTSE 100 Index gained 0.85%.
China
Chinese stocks continued to recover from the steep correction in July. The Shanghai Composite Index rose 2.8%, and the large-cap CSI 300 Index gained 1.2%.
South Korea
Unlike the US Fed, The South Korean Central bank has taken a firm stance by increasing interest rates by 0.25% to .075%.
India
India, the 8th largest market in the world, also saw substantial gains during the week. The Sensex and Nifty also reached new highs breaching 56,000 and 16,700, respectively.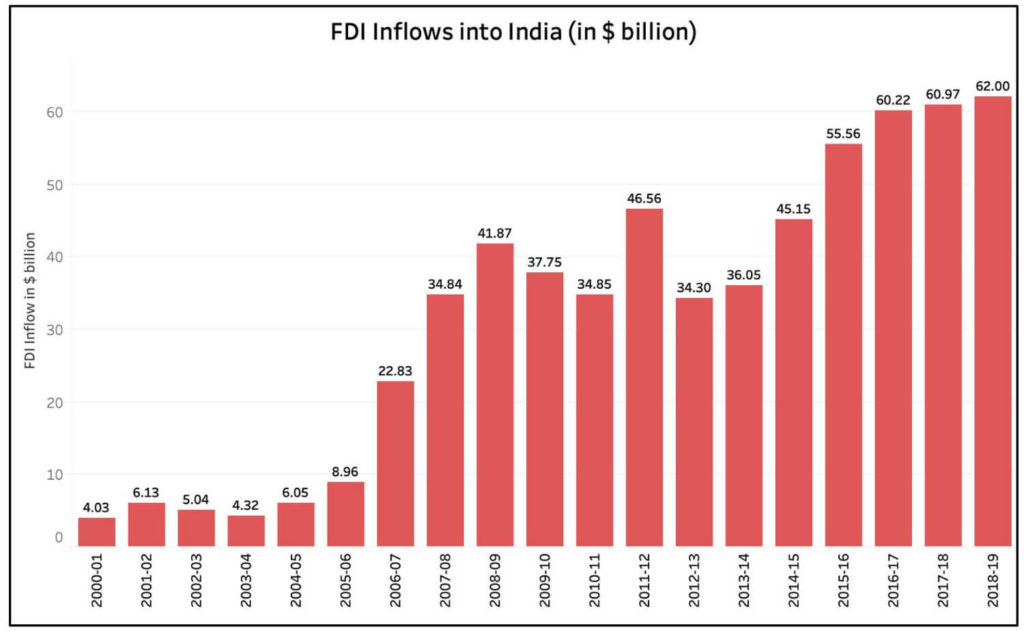 Foreign Direct Investment(FDI) in India continues to rise, reaching the highest ever to $81.72 billion in 2021.
Outlook
Overall global markets witnessed a strong rally last week, highlighting the fact that the investors' confidence is still high and dips are good buying opportunities.
Whether it is Holistic Financial Planning, Investment Planning, Life and Critical Illness Insurance, or robust portfolio management, whatever your needs are, we can help. Arrange a free consultation now.