Generali Vision - Best Regular Savings Plan in Dubai.
Generali Vision is the best regular savings plan in UAE.
It adapts to the changes in your life while providing a robust platform to invest in markets around the world at negligible costs.
The biggest motivator for expats working in UAE is the tax-free income and the opportunity to save more money, than what is possible in their home countries.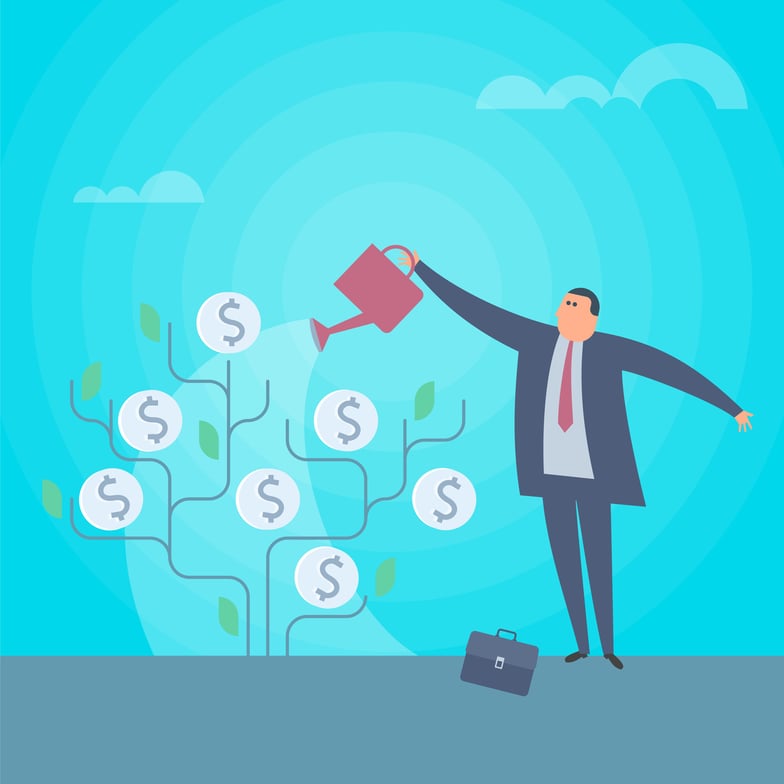 There are several savings plans in Dubai, helping residents save for their goals. As a financial adviser I only recommend Vision, to my clients; read further to find out why?
What is Vision?
Generali Vision is a regular savings plan, that can help you put aside small sums of money for saving towards your short term and long term financial goals like;
Retirement,

Children's education,

Starting a business

Property Purchase

Daughter's Marriage

Immigrating to another country

.
It is very flexible, adapting the changes to your life while providing you a robust platform to invest in markets around the world at negligible costs.
Who are Generali?
For 178 years Generali has been leading provider of insurance and financial services to a global market. It has a client base of 70 million clients and over 560 Billion USD in funds under management.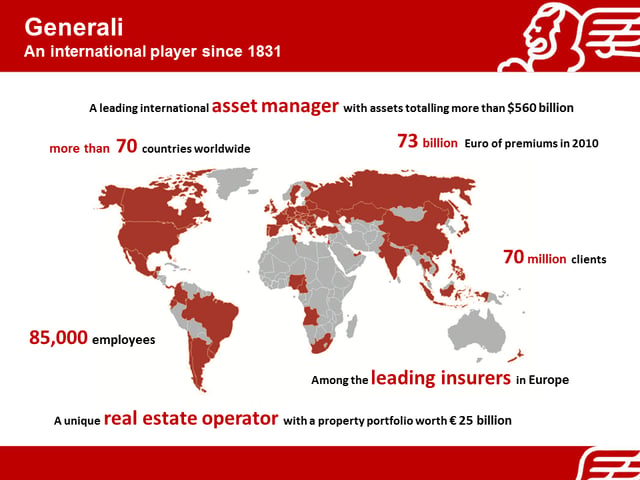 It ranks 48th on the Global Fortune 500 list. Generali ranks 7th on the World's largest insurers, in terms of assets. In terms of Net Premiums, it ranks 2nd on the world's largest insurers in the year 2012. (Click here to access the report)
Why Generali Vision?
The following are some to the important factors that make Generali vision a good savings plan.
Lock in/Initial Period:
All savings plan have a certain lock in/initial period. The biggest advantage the Vision offers is the lowest lock-in/initial periods for plans 10 years or lower premium payment contract.
What is an initial period?
The first few months of all regular saving plans in UAE are held by the plan providers for charges payable on the plan. This period is called initial period and it varies between plan to plan.
Almost all plans in UAE come with 18 months initial period. A 5-year vision plan comes with a 4.95-month initial period. A 10-year vision savings plan comes with a 13.2-months lock in period.
Access to cash when in need is perhaps the biggest concern we expats have preventing us from investing in regular savings plans in UAE. The Vision is the best answer to this concern.
Choice of Currencies:
You can choose to invest in 5 major currencies viz; US dollar, GB pound, HK dollar, Euro, or Japanese Yen.
Payment alternatives:
Vision offers two types of payments: Regular premiums or Lump sums. Regular premiums can be paid on a monthly, quarterly, half-yearly or annual basis. Lump sums can be paid at any time.
Premium Holiday:
Priorities of life change from time to time. Should you need to take a temporary break from paying premiums you can for a period of 12 months.
Surrender Value
Should you require funds for an emergency, you can opt for a partial or full surrender of your plan. Generali vision's surrender value depends on the term of investment selected and the term completed.
Plans with shorter premium payment term(For Eg: 5 years & 7 Years) have higher surrender value when surrendered early in comparison plans with a longer premium payment term(For Eg; 20 years & 25 years).
Hence it is important to choose the right premium payment term, in order to avoid high surrender charges.
Choice of Investment:
Vision offers a selection of more than 120 top performing Direct funds, from leading Fund Houses. The wide choice of funds enables robust portfolio construction to match a wide variety of investment profiles.
Most savings plans underlying investments is in Mirror Funds. Generali offers Direct Funds only so that you can benefit from the higher growth offered by the direct funds.
Enhanced Allocation:
The Vision plan allocates a greater percentage of the money you invest the more you decide to contribute.
The allocation rate increases from 100% for premiums of USD3,600 a year to 105% when you invest more than USD60,000 a year.
Loyalty Bonus:
When you select a regular premium payment term of 10 years or greater, Generali pays a loyalty bonus on all regular premiums paid. The following figure explains the loyalty bonus structure;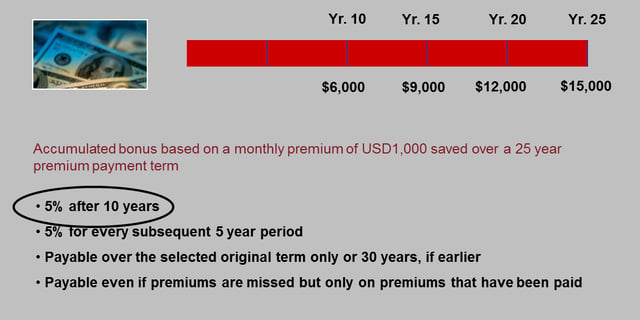 Peace of mind
All policy information including the fund value and fund performance is accessible information online round-the-clock at www.generali-uae.com.
Minimum Premiums:
For terms of less than 10 years = USD750 per month or currency equivalent.
For terms of equal to or more than 10 years = USD300 per month or currency equivalent.
Summarizing the top 10 reasons, why you should invest in a vision savings plan in UAE;
5% Loyalty Bonus on all Regular Premiums

Penalty-Free Partial Withdrawals

Enhanced Allocation up to 106% on all Premiums

No additional charges for Payment by Credit/Debit Cards

Free Online Switch/Redirection

Available in US dollars, Euro, GB pound, Japanese yen and Hong Kong dollar

Direct Funds only – No Mirrors

24/7 Online Valuations (Clients and Brokers)

Low Policy Fee of $4.50 p.m.

Access to over 120 Funds from leading Fund Houses
Generali Vision can help you achieve your financial goals more efficiently, and to start a savings plan or to know more about Vision, call me on +97150-2285405 or arrange a free consultation.