Will the fall bring a fall?
In the last 20 years, September has been the worst-performing month of the year.
While the markets don't follow the gregorian calendar, it is noted in the past that the volatility tends to increase from September onwards.
With resurging pandemic fears and a potential shift in Fed's policy, will the fall bring a fall?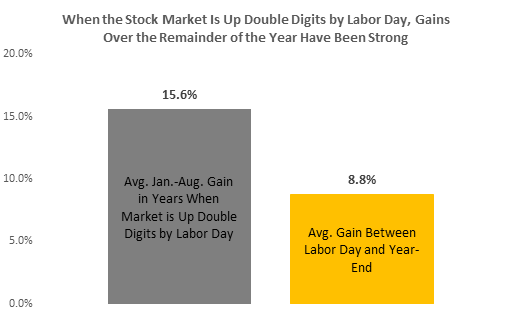 Source: Bloomberg, S&P 500 price return 1991-2021. Past performance is not a guarantee of future results.
The S&P500 has risen by more than 20% YTD. It is the 9th time since 1991 when it has posted double-digit growth until September.
On each of these occurrences, the S&P500 has grown by an average of 8.8% for the rest of the year. Experts believe that the bull run momentum is likely to continue but with pronounced volatility.
Thanks to robust corporate earnings and the accommodative monetary policy, the markets still seem to have more steam left.
Weekly Market Update
US
Last week, the S&P 500 & Nasdaq were up, reaching yet another new high. The August ADP National Employment Report was well below expectations, but investors saw this as good news, as it could delay Fed's plan to taper this year.
Europe
European markets witnessed a minor change last week, as investors evaluated signs of slowing economic momentum.
The Euro STOXX Europe 600 Index, France's CAC 40 Index and the UK's FTSE 100 Index were flat

Germany's Xetra DAX Index was down by 0.45%

Italy's FTSE MIB Index gained 0.22%
China
Chinese stocks continued to rise for the second week in succession. According to Reuters, the Shanghai Composite Index gained 1.7%, beating the large-cap CSI 300 Index, which rose 0.3%.
India
The Sensex and Nifty continued to rise, ending on record levels of Friday. The Sensex surged 2,005.23 points(or 3.57%) to settle at 58,129.95 and the Nifty soared 618.40 points or 3.70% to settle at 17,323.60.
Outlook
While the fundamentals are still strong, the valuations keep rising every passing week; a midcycle slowdown may just be around the corner.
Goal-based investing, prudent asset allocation in line with risk appetite and market sentiments, periodic review and rebalancing are proven mitigants to midcycle slowdown and potential market risks.
Expert help
Whether it is Holistic Financial Planning, Investment Advice, Life and Critical Illness Insurance, or robust portfolio management, whatever your needs are, we can help. Arrange a free consultation now.