Caution Creeping in...
The U.S. equities ended in the week in red amidst renewed fears of the resurging delta variant and higher than expected inflation numbers. Supply chain bottlenecks continue to push prices up globally.
During the week,
The Dow Jones Industrial Average was down by 272 points (0.8%) to end the week at 34,608

the S&P 500 Index fell by 35 points (0.8%) to 4,459

the Nasdaq Composite declined 133 points (0.9%) to 15,115
Experts see Caution creeping in, despite a negligible drop in equities as global growth slows down and central banks are looking to reduce stimulus.
The growth outlook for 2021 is being revised from 7.00% in July to 6.00%, thanks to;
Weakening consumer demand impacted by the delta variant.

Persisting supply chain concerns disrupting momentum.
All is not lost...
While the delta variant and inflation numbers forcing investors to tread cautiously, all is not lost.
At 6.00%, the current growth outlook is still the fastest since 1984

With the COVID-19 cases seeming to peak and increased vaccinations, the reopening process is possibly delayed but not derailed.

The growth and economic output are probably slipping from the third quarter into the fourth quarter or the following year.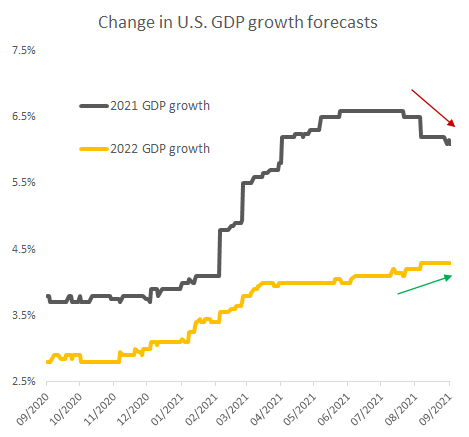 Chart showing change in U.S. GDP growth forecasts over the past year. Since August 2021 estimates have declined, while 2022 estimates have risen some.

Source: Edwardjones.com
Europe
Shares in Europe were also down due to Pandemic woes, uncertain growth outlook and central bank policy.
The Euro Stoxx 600 was down by 1.19%

Germany's Xetra DAX Index slid by 1.09%

Italy's FTSE MIB Index slipped 1.45%

France's C.A.C. 40 Index fell by 0.39%

The U.K.'s FTSE 100 Index dipped 1.53%.
Japan
Japanese equities continued to grow, fuelled by political optimism and additional stimulus expectations under the new prime minister.
The Nikkei 225 Index was up by 4.30%, and the broader T.O.P.I.X.T.O.P.I.X. Index rose 3.78%.
China
Chinese equity continued to rise for the third consecutive week. Thanks to solid trade data and the recent conversation between presidents Biden and Xi Jinping.
The Shanghai Composite Index gained 3.4%

The large-cap CSI 300 Index was up by 3.5%,
India
In India, the Sensex and Nifty were up marginally by 0.30% and 0.26%. The Mid-cap and small-cap indices advanced by 1.33% and 1.24%
Outlook
While a mid-cycle slowdown is potentially brewing, the market fundamentals are still strong. Equity markets are expected to grow slower than the last 18 months and with higher volatility.
What does this mean to you?
As a retail investor, it would be better to focus on your personal goals and investment horizon than the market sentiments.
If you are investing for long term goals, stay invested in a diversified equity portfolio. And if your investment horizon is short, skew towards cash, gold and fixed income.
Also, remember that bull market corrections are unpredictable and typically short-lived; hence, looking to time the markets may not be a good idea. Instead, focus on building a balanced portfolio diversified across sectors, geographies and asset classes.
Including cash, bonds and gold can help mitigate volatility and be used for rebalancing and buy equities when markets correct.
Expert help
Whether it is Holistic Financial Planning, Investment Advice, Life and Critical Illness Insurance, or robust portfolio management, whatever your needs are, we can help. Arrange a free consultation now.