A Bumpy Ride - Weekly Market Update
Last week, the US equities were in the red for the second week in a row.
The Dow Jones Industrial Average fell by 0.9%, while the S&P 500 Index and the Nasdaq were down by 0.3% during the week.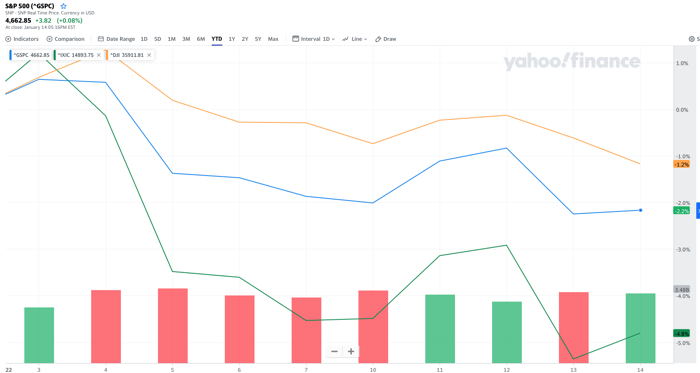 The markets continued to wrestle Fed's aggressive stance as inflation continued to surge in the US, hitting the 7% mark in December.
Persisting high inflation adversely impacts many economic aspects, including the Fed's monetary policy, consumer spending, liquidity, and bond yields. They, in turn, restrict the growth of equity markets, particularly the growth stocks.
Given the recent data and developments, markets are slowly pricing in four interest rate revisions by the Fed this year to tame the surging inflation.
Additionally, Investors were also served with a dose of disappointing economic data, in the form of;
A sharp decline in December retail sales( Online and In-store)
Deteriorating consumer sentiment
Dip in industrial production.
On a positive note, the earnings season starting next week is expected to be good and will likely support the markets in the short run.
However, it remains to be seen; how much inflation corporates have been able to pass on to consumers and how long they can continue to do so without losing revenue.
A Bumpy Ride
In light of the above, we could expect a bumpy ride throughout 2022, as both bulls and bears battle to take control.
2022 is perhaps the year; you should focus less on the return on your capital and more on the return of your capital.
Moving on to Europe
European equities were also in the red, as the negative sentiments over Fed's monetary policy spilled over from the US. However, the UK's FTSE was up the second week in a row, supported by positive data on the economy's expansion.
Moving further east into India and China
Chinese equities continued declining as the CSI 300 index shed 2.00%, while the Shanghai Composite index was down by 1.6%.
India
Indian equities were the bright green spot in a sea of red, as the Nifty crossed the 18000 mark and the Sensex regained the 61,000 levels.
Indian equities witnessed a positive movement across all market caps as both FIIs and domestic investors were on a buying spree.
Outlook
As stated above, investors should brace for a bumpy ride this year as the Fed continues to tighten its monetary policy. A lot depends on Q4 corporate earnings and the guidelines for Q1 and beyond.
Despite all challenges, global economies are still growing at a healthy pace, and the outlook for equities is still positive for the year.
A diversified portfolio with growth and value stocks blended with bonds, commodities, and notably, cash can help investors ride the volatility with minor damage.
Expert Help
Whether it is Holistic Financial Planning, Life Insurance, or Investing to grow your wealth, whatever your needs are, I am here to help. Arrange a Free Online Meeting to discuss your objectives and explore potential solutions.
Click here to arrange a Free Online Meeting
Disclaimer
Although we obtain information contained in our weekly market update from sources we believe to be reliable, we cannot guarantee its accuracy. The opinions expressed here are my own and may change without notice. Any views or opinions expressed in the above blog post cannot be constituted as financial advice. The information in this blog post may become outdated, and we have no obligation to update it.
The information on my blog is not intended to constitute individual investment advice and is not designed to meet your personal financial situation. It is provided for information purposes only, and nothing herein constitutes investment, legal, accounting, or tax advice or a recommendation to buy, sell or hold a security.
No recommendation or advice is being given as to whether any investment is suitable for a particular investor or a group of investors. It should not be assumed that any investments in securities, companies, sectors, or markets identified and described were or will be profitable.
We strongly advise you to discuss your investment options with your financial adviser before making any investments, including whether any investment is suitable for your specific needs.